Stormlake Gl-34-9mm-532 Glock 34 9mm 5.32"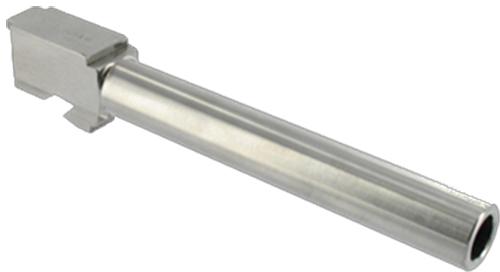 | | |
| --- | --- |
| Available | At Warehouse |
| MSRP | $16900 |
StormLake GL-34-9MM-532 Glock 34 9mm 5.32" Stainless Steel
StormLake Glock barrels are machined for certified 416R stainless steel for superior strength, durability and accuracy. Barrels are match grade, hardened to 40-42 HRC and cut broach rifled to shoot jacketed or lead bullets. All barrels are chambered for full case support. All Glock barrels are drop in and will only occasionally require modification to fit. Extended lengths are available, as well as ported and threaded options. Two port options are extended barrels with ports beyond the end of the slide. Four port options are standard length barrels where all ports are within a slide cutout area - a cutout in the slide is required to accommodate the ports, or with all ports extended beyond the end of the slide. Six port options have a combination of the tow ports beyond the end of the slide and four ports within the slide cutout area. Check with manufacturer of attachment to verify thread option before ordering.
Also available...
| | |
| --- | --- |
| | Barrel, 9MM, 4.49" |
| | Barrel, 45 ACP, 5.3" |
| | Barrel, 9MM, 4.49" |
| | Barrel, 9MM, 5.19" |
| | Barrel, 9MM, 4.02" |
| | Barrel, 9MM, 4.72" |
| | Barrel, 40 S&W, 4.49" |
| | Barrel, 40 S&W, 4.02" |
| | Barrel, 9MM, 4.02" |
| | Barrel, 9MM, 3.46" |
Item Info
| | |
| --- | --- |
| Item | 68919-5 |
| UPC | 848589003506 |
| Brand | StormLake |
| Model | GL349MM532 |
Tech Specs
| | |
| --- | --- |
| Gauge or Caliber | 9mm |
| Length | 5.32" |
| Model | 34 |
| Finish | Stainless Steel |
| Barrel Type | Rifled |
| Ammo Type | Jacketed/Lead |
| Purpose | Replacement |
| Series | Barrels |